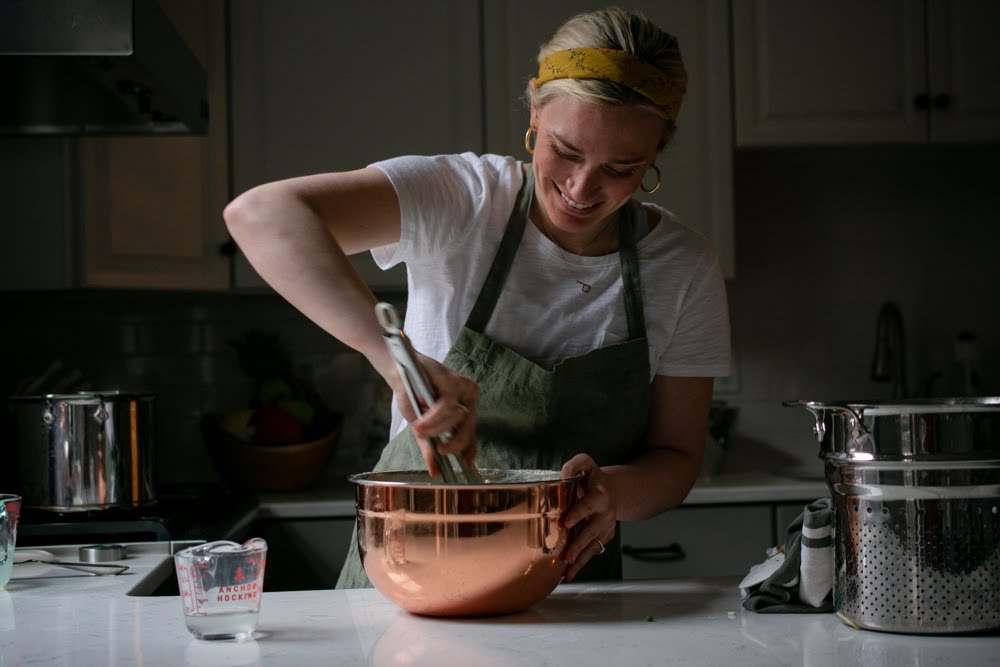 Registration is closed for this event, but please find recipes below!
DAC COMMUNITY COOKING CLASS
Featuring Food by Phoebe
Thursday, February 4, 5:30-6:30pm
On the menu: Blackened Fish Tacos with Quick Pickled Onions, Chipotle Lime Crema and Cilantro Rice, and a Rosemary Grapefruit Margarita!
SHOPPING & EQUIPMENT LISTS
Ingredients
agave nectar (or honey)
fresh sprigs of rosemary
tequila
fresh squeezed grapefruit juice*
3 limes
1 lb. Tilapia filets blackening or cajun seasoning
8 corn tortillas
Salt, Pepper, Sugar & EVOO
apple cider vinegar
1 red onion
1 cup plain Greek yogurt
1 chipotle chili in adobo
1 cup white or brown rice*
1 bunch cilantro
1/2 bunch scallions
Equipment
cocktail shaker
oz jigger
2 medium mixing bowls
1 sheet tray lined with foil
whisk
1 medium tupperware container with lid (for pickled onions)
tongs
blender
cutting board
chefs knife - or your favorite knife
an apron and your 'A game'
* Important to note: Please see advanced prep of these items within recipes. Grapefruit should be squeezed (note that fresh-squeezed grapefruit juice can be purchased at many grocery stores.) Also, rice should be cooked before class.
Recipes
To do before class: Squeeze your grapefruit juice
Cocktail
Rosemary Grapefruit Margarita (Makes 1 cocktail)
1⁄4-​1⁄2 oz agave nectar (or honey)
2 sprigs rosemary
2 oz tequila
1 1⁄4 oz fresh grapefruit juice
Juice of 1⁄2 lime
Optional salt for rim
Rub the rim of your glass with a lime wedge and then dip into a small plate of salt. Fill the cup with ice and set aside.
Add the agave and 1 rosemary sprig to a cocktail shaker and muddle until the rosemary is fragrant. Add the tequila, grapefruit juice, and lime juice and fill with ice. Cover and shake for about 20 seconds until nice and cold.
Using tongs, carefully hold the remaining rosemary sprig over the open flame of the stove to singe the top of the rosemary sprig slightly. Pour the cocktail into the prepared glass and garnish with the smoky rosemary sprig!
Dinner: Blackened Fish Tacos
Serves: 2
Ingredients:
1lb tilapia filets
1 tablespoon extra virgin olive oil
Blackening or cajun seasoning (I love Frontier Co-op Blackening Seafood Seasoning - Old Bay would also work) if you can't find - a mix of smoked paprika and onion or garlic powder will do the trick!
8 corn tortillas
Directions:
Preheat the oven to the broil setting with the rack 6 inches from the broiler. Place the tilapia on a foil lined sheet tray misted with cooking spray, drizzle with oil, and top with ample seasoning (about 1-2 tablespoons).
Broil for about 7 minutes until a fork meets no resistance and the fish easily flakes apart. Serve in a tortilla with quick pickled onion, chipotle lime crema, and cilantro rice on the side.
Quick Pickled Onions
Serves: 8
These pickled onions are the gift that keeps on giving! Store in your fridge in an airtight container for up to 2 weeks and top on sandwiches, breakfast bowls, tacos/breakfast tacos etc.
Ingredients:
1/2 cup apple cider vinegar
1 tablespoon sugar
.5 teaspoon kosher salt
1 cup water
1 red onion, thinly sliced
Directions:
Whisk the cider vinegar, sugar, salt and water in a medium bowl until dissolved. Add the onion to a medium tupperware container, pour the pickling liquid on top, seal the lid, and set aside.
Chipotle Lime Crema
Serves: 4
Ingredients:
1 cup Greek yogurt
1 chipotle chili in adobo (comes in a can), finely chopped, or just 1 tablespoon of the adobo liquid if you don't love spice - your favorite hot sauce will do the trick if you can't find!
Juice of 1 lime
Directions:
Whisk all ingredients together in a medium bowl
Cilantro Rice
Serves: 4
To Do Before Class: Cook your rice!
Ingredients:
1 cup white or brown rice - cooked per back of bag (yields 3 cups cooked) feel free to buy a bag of frozen rice to pop in the microwave - no judgement here!
1 bunch cilantro
1/2 bunch scallions
2 tablespoons olive oil
Juice of 1 lime
Place the cilantro, scallion, olive oil, lime, 1/2 teaspoon salt and about 1/4-1/2 cup water in a blender. Blend until smooth. Pour over rice and mix until fully incorporated. Season to taste with more salt and pepper.
---